Don't explain what it feels like to feel the elephant in the room - feel the elephant in the room, and tie that to an action your employees can take in that moment. Use feeling to make the situation relevant as a #1 priority in your organization. The powerful immersion into the experience creates a new understanding and provides practical tools to know what to do in a high stakes environment.
Unlock Unparalleled Insights
Immersive training allows for unprecedented people analytics; your portal enables you to understand how employees are engaging with training material - from engagement data, to patterns in behavior, to detected empathy levels, to displayed levels of confidence. Receive unparalleled insights into how your employees think and engage.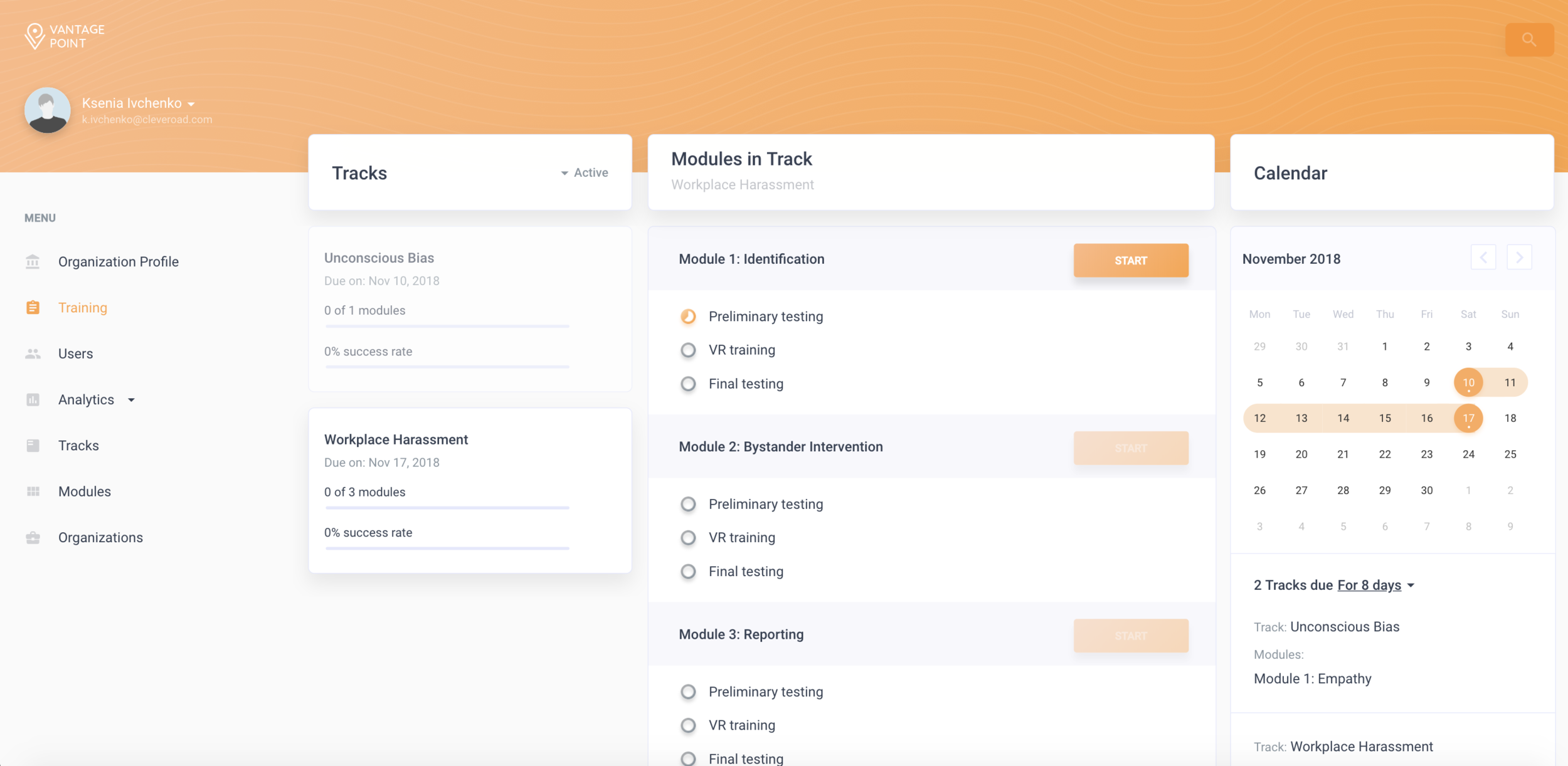 Scale and Train Efficiently
We've got it figured out. Using portable VR headsets, you can now train anywhere. The result? Decreased disruption to the work day significantly compared to other training. Our platform features Employee Auto-Scheduling, Headset Auto-Shipping and a Headset Checkout system so headsets can be checked out, returned, and retrieved at any time. From a warehouse to your company's satellite office, our platform tracks and manages employee training completion so you don't have to.
Do you feel that your training programs are having the impact you're hoping for? Do you feel they're deeply engaging?
Provide impactful training around the topics that matter.

Act on unique insights to reinforce learnings.

Build an empathetic workforce with a higher EQ.

Invest in training programs that help achieve company objectives.
Increase retention
Virtual Reality Can Increase Learning Retention Rates by Up to 75%.
State Dependent Learning
State Dependent Learning is a psychological phenomena where employee response accuracy and memory is at it's highest when the training environment is able to most closely replicate the stimuli of the real-world environment . Traditional training solutions do not take into account the external and internal stimuli that influence employee decisions.
People Analytics
Traditional training methods offer no way for leadership teams to actually know how their employees are understanding, engaging with, and responding to the topic. Virtual Reality allows for unprecedented insight into behavioral and cognitive data around important topics.
Why Vantage Point
Efficacy Testing
Our program aggregates anonymous performance data across various industries to give corporate executives a better understanding of their corporate landscape, and helps insure we're teaching the most effective materials.
Make the Changes that Matter
We help companies make changes that have maximal impact. We provide unique company specific insights about corporate culture and identify core areas of improvement.
Proven Cutting-edge Training Techniques
Our techniques encourage communal accountability, identify bias, and focus on educating around the core matrix that leads to sexual harassment. Our material takes into account hard-to-detect nuances of common sexual harassment situations, and each immersive module includes real-time response training.
Hear More from Our Customers Below
Learn how Vantage Point can train on Empathy, D&I and Anti-Sexual Harassment for the workforce of tomorrow.